A payday loan is a short-term loan available to you based on how much you earn each pay period. Lenders require proof of income, usually a recent paystub, to qualify for the loan. The lender then grants a loan for that amount along with interest and/or a lender's fee.
People who consider payday loans often do so because they are living paycheck to paycheck and run into a sudden, unexpected expense. Budgeting for these loans can be an impractical financial decision for many borrowers.
Payday loans have a reputation for extremely high interest rates, so they are considered riskier than other types of personal loans.
Payday Loan Questions – Quick Links
1. Can I Get Payday Loans Online?
Yes! Although you are probably familiar with payday loan storefronts, they aren't the only way to get a payday loan. You can get one online and have the money directly deposited into your bank account.
Online payday loans are nearly the same as the in-person option with a few differences.
| | |
| --- | --- |
| Online Payday Loan | In-Person Payday Loan |
| Online Application | Paper Application |
| A valid I.D. (e.g. driver's license) | A valid identification number (e.g. Driver's license or SSN) |
| Digital copy of your pay stub required | A paper copy of pay stub required |
| Funds direct deposited into your bank account within 1 business day | Cash loan available on the spot (usually within 10-15 minutes) |
| Payment will be deducted from your bank account on your next payday | Make an appointment to return the loan in person on your next payday |
2. Are Payday Loans Risky?
It depends on how you measure risk. The primary complaint is that they have very high interest rates. If you are certain that you will be able to pay back the loan, including interest and fees on the due date, then your risk is fairly low.
If you are living paycheck to paycheck and may not be able to pay back the loan on time, then a payday loan can become a very costly problem. Extending the due date of your payday loan, called renewing or rolling over your balance, is possible but costs more in both interest and fees. Lenders have different policies about payday loan renewals and late payments.
A recent CFPB report shows that approximately 80% of payday loans are renewed or followed by a new loan. This means that most borrowers are unable to pay back the loan by the due date.
3. What are Typical Payday Loan Interest Rates?
A recent study showed that in some states payday loans charge nearly 700% interest. Those numbers are high because they factor in what happens when a borrower can't pay the loan in time and must renew it multiple times. For this reason, some states have laws prohibiting payday loans.
4. What States Prohibit Payday Loans?
Payday loans are prohibited in:
Arizona
Arkansas
Connecticut
Georgia
Maryland
Massachusetts
New Jersey
New Mexico
New York
North Carolina
Pennsylvania
Vermont
West Virginia
District of Columbia
5. Are Payday Loans Good for People with Bad Credit?
If you have bad credit and need cash right away, a payday loan is one option for quick cash. The biggest draw for these loans is fast approval and payout. In most instances, you can apply for and receive your loan within 15 minutes in-store or the same day online.
Before getting a payday loan for bad credit, you should pursue your other options first. If you are eligible, a cash advance on an existing credit card or online personal loan may be a better option.
6. Can I get a Payday Loan Without a Credit Check?
Yes. Most payday loans do not require a credit check. However, they can affect your credit score if you do not pay the loan back on time. Payday lenders will report unpaid balances to credit bureaus which could show up on your next credit report.
According to the Consumer Financial Protection Bureau, if you pay back your payday loan on time, it is unlikely that the loan will appear on your credit report from bureaus like TransUnion, Experian, and Equifax.
Payday Loans in the News
Payday loans have a bad reputation because some lenders have taken advantage of borrowers with misleading repayment terms. If the terms confuse the consumer the amount repaid in fees and interest can quickly exceed the original loan. Famously, Scott Tucker, a professional race car driver, is serving a 16-year prison sentence for misrepresenting the terms of his online payday loans in a scam that cost borrowers $1.3 billion dollars.
The structure of the scam is outlined in this quote from this case.
"Although he told consumers he would withdraw from their bank accounts their loan amount plus 30% interest on their next payday, he didn't do that. Instead, he automatically "renewed" consumers' loans, rolling over the principal and withdrawing a 30% "finance charge"—the interest—multiple times before ever withdrawing a payment on the principal. The upshot was that a consumer who took out a $300 loan and expected to pay $90 in interest could ultimately pay as much as $675 in interest (in addition to repaying the $300 principal)."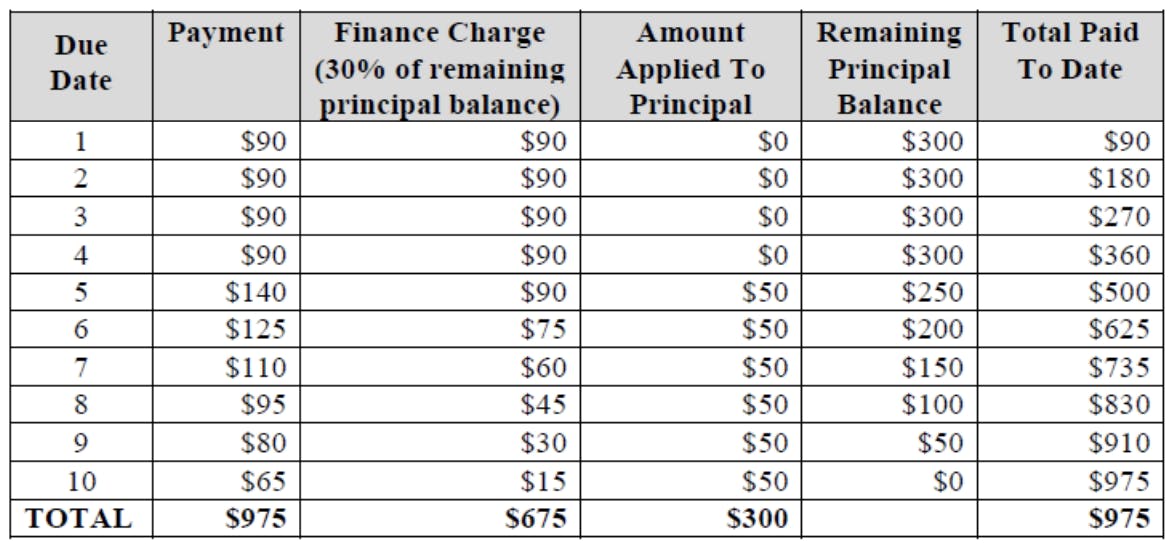 Source: Federal Trade Commission v. AMG Capital Management, LLC
Get Debt Resolution from Payday Loans
If you have fallen behind on paying back your payday loan, or any loan, you should consider your debt resolution options. Speaking with Accredited Debt Relief can help. Call for a free consultation and speak with their specialists about debt consolidation.