---
Unexpected unemployment, serious illness and other large expenses can make it difficult to pay your debts. If you are overwhelmed by credit card debt, private student loans and high-interest rates, you may think that bankruptcy is your only option. However, relief is possible through debt negotiations. While some consumers attempt negotiating with their creditors on their own, debt settlement services have proven results.
---
Debt Settlement Basics
Everything is negotiable. A debt settlement occurs when a creditor or debt collector agrees to settle a debt for an amount less than what is owed. Why would a creditor agree to do this? A creditor's main goal is to receive payments on debts. They require these payments to maintain liquidity and continue lending to other consumers.
If a borrower is experiencing financial hardship and has exhausted all options and has proven that they cannot make regular payments, it may be in the best interest of the creditor to negotiate some rather no payment.
Debt Consolidation and Settlement with Accredited Debt Relief
Clients can save an average of 45% on their enrolled debt (excluding program fees), individual results vary
Debt settlement is an agreement between you and your creditor
Debt settlement is an alternative to bankruptcy
Debts are usually resolved in 12-48 Months, individual results vary
---
Negotiate Debt with Creditors as An Alternative to Bankruptcy
Bankruptcy is a legal process in which a person seeks relief or protection from their creditors due to the person's inability to repay their debts. It is a common misconception that bankruptcy relieves you from ever repaying your debt.
There are several different types of bankruptcy.  For example, Chapter 13 bankruptcy is a court-monitored repayment plan that usually lasts 3-5 years and can severely impact your credit score for up to 10 years. Many who file bankruptcy may find it difficult to get loans and purchase a home in the future.
Accredited Debt Relief is a bankruptcy alternative that can help you negotiate a settlement that will reduce the amount of your debt.
Step 1: Determine If You Are a Good Candidate for Debt Negotiation
A good candidate for debt negotiation, consolidation and settlement:
Is unable to make minimum payments on existing debt
Has considered bankruptcy
Feels that their debt is affecting their mental health or quality of life
Questions about debt negotiation?
Schedule a free consultation with a Certified Debt Specialist at Accredited Debt Relief. We can discuss your financial circumstances and determine which debt relief options are best for you.
Step 2: Begin Saving Money
A creditor is unlikely to accept the terms of a debt negotiation if they feel you are capable of paying the full amount. Generally, creditors and collection agencies only consider negotiating debts after a proven pattern of failed payments. Any money that you would have set aside to pay on debts could be saved in a dedicated savings or escrow account. This money can be put toward a payment plan as well as any fees associated with your settlement.
Step 3: Prepare a Budget
Before debt negotiations begin, you'll need to decide what you can afford to pay and how this payment will affect your budget.
Need help making a budget?
Debt counseling can help you make a budget and a plan for monthly income. A Certified Debt Specialist at Accredited Debt Relief can help you decide on a single, fixed monthly payment that is affordable for you.
Step 4: Negotiate with Creditors
A successful negotiation relies in large part on your ability to articulate your finances and advocate for a settlement that works best for you. Your negotiation may include:
A settlement amount, usually less than the total owed
Monthly payment and/or a lump sum payment
Repayment schedule
An interest rate and any maintenance fees
Financial language, like legalese, can be difficult to interpret if you have limited experience in the financial sector. You don't have to negotiate on your own behalf. You can work with an experienced debt negotiator who will advocate for you.
Step 5: Reach a Settlement
A successful debt negotiation ends with a debt settlement that satisfies the creditor and frees you from the burden on unmeetable payments.
---
You Don't Have to Negotiate Debt on Your Own
Debt settlement specialists will negotiate on your behalf. Your debt negotiators will lead negotiations with your creditor to ensure that you reach a fair settlement. Working with Accredited Debt Relief will protect you from unfair deals and shield you from unnecessary stress so you can continue focusing on your career and family. Further, by letting our expert negotiators speak to creditors for you, you won't be pressured to accept an agreement that isn't in your best interests.
---
Benefits of Debt Negotiation with a Debt Settlement Company
Working with a debt settlement company can help you consolidate and settle your debt. While results will vary the benefits of working with us include lowering the overall amount of debt owed.
You are eligible for debt settlement with Accredited Debt Relief if:
Have $7,500 or more in debt 
Debt is unsecured
Able to make single fixed monthly payments
---
How Long Will My Debt Relief Program Take?
Your debt negotiation and repayment timeline may take 12 to 48 months. Your certified debt specialist will help you choose a timeline that works best for you and your budget. Your timeline will include regular deposits to your dedicated account for a specified length of time. The amount and frequency of these payments will help determine how long your program will take.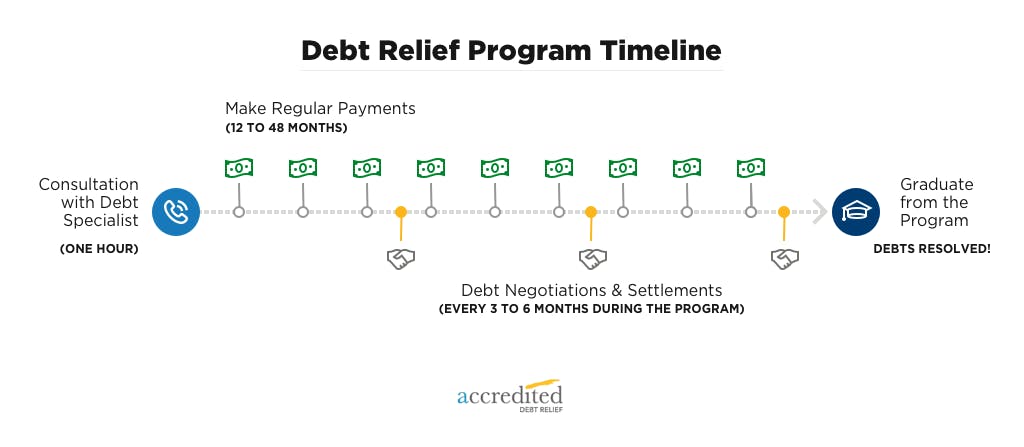 ---
Advantages of Working With Debt Negotiation Services
At Accredited Debt Relief, we have years of experience in the debt relief industry. Our expertise and proven history of results make us your perfect debt negotiation partner. We are here to help you better understand the debt negotiation process and relieve any anxiety you may feel about making the right choices. Speak with us in a free consultation to get the answers you need and begin your debt relief journey.
---
---